Stefani and Kelly's DIY fall wedding was a true labor of love. The couple made all of the decor for their wedding: the bookmark escort cards, carved pumpkin centerpieces, and even the chuppah! They also completely designed their ceremony to reflect their shared values as well as their individual traditions. Their reception was filled with dancing, love-filled toasts, a s'mores bars, and a sparkler exit, all captured by Danielle Heinson Photography.
How We Met
We met on OkCupid and hit it off right away. We're both educators (Stefani's a 4th grade teacher and Kelly is a high school librarian), we love traveling, camping and hiking, and we even both have 3 brothers! Stefani may be Jewish, but we both share a love of Christmastime – both Winter and Lake Michigan played a huge role in the beginning of our relationship. As the Polar Vortex hit Chicago in the Winter of 2013, we spent many hours walking along the snowy lake, cooking, and shoveling snow, which led to love.
The Proposals
When Kelly planned her proposal to Stefani, she knew she needed to incorporate the lake. Stefani stayed late packing up her classroom on the last day of school when Kelly surprised her with a picnic lunch by the lake. Kelly gave Stefani a vintage book: A Field Guide to Trees and Shrubs. Kelly loves books and old things, and they were about to go on a camping trip to Acadia National Park, so Stefani just thought it was for the trip. Stefani opened it, and inside in sparkly gold letters it said Will You Marry Me? A box had been carved into the book and lined with moss, and there was an engagement ring inside. It was a complete surprise and completely perfect.
Stefani proposed to Kelly exactly a month later with her favorite breakfast in bed and a side of an engagement ring.
The Ceremony
Our ceremony was really special; it was a Jewish ceremony infused with some Unitarian elements, and we loved that our bridal parties played an integral part. When we exchanged rings during the ceremony, Stefani stuck out the wrong finger and everyone laughed! It was a genuinely sweet, funny, and authentic moment.
We cannot speak highly enough about Rabbi Rachel Weiss. We met with her three times to talk about our ceremony and what marriage means to us. We wanted to make sure the ceremony honored the traditions we hold as individuals, and embodied who we are as a couple. Kelly's not Jewish, and Rabbi Weiss did an amazing job of explaining all the components of a Jewish ceremony and helped us adapt them to fit our values.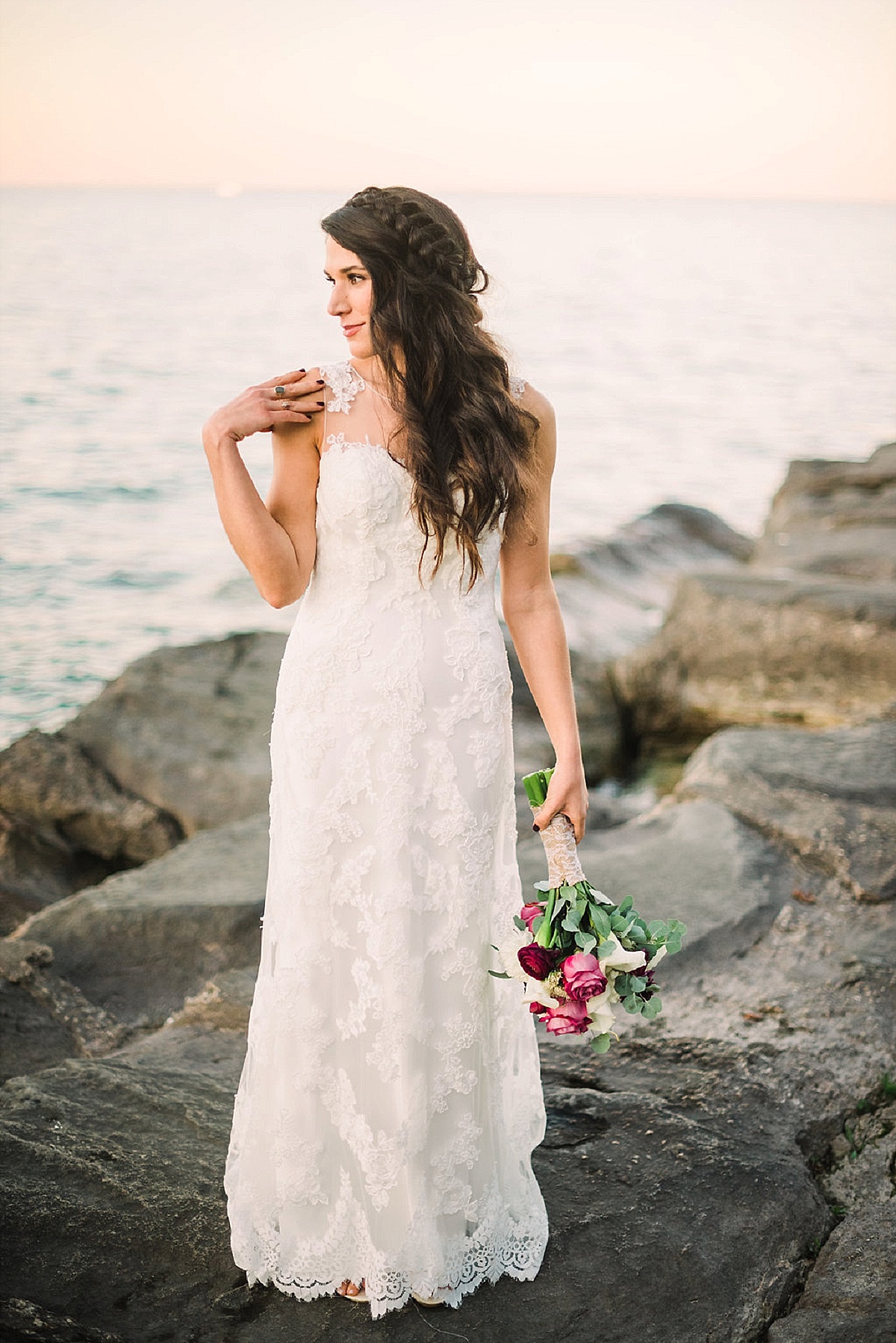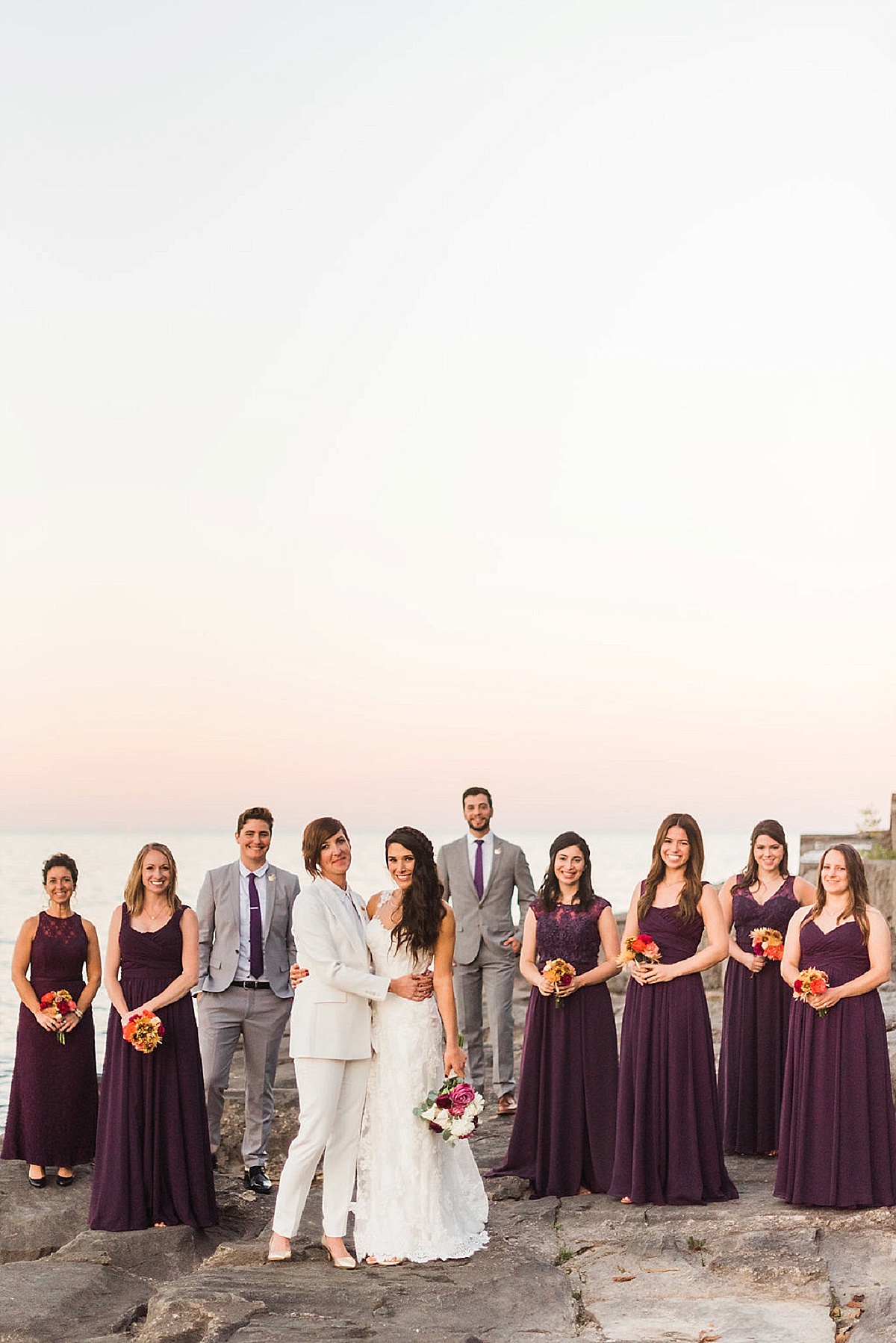 The Wedding Vision
We wanted a small autumn wedding that felt personal, and every aspect of the day was just that. We both agreed we wanted to get married on the lake – it was the location of our first dates, where we fell in love, and where we live. When we saw Promontory Point, we instantly knew that was the perfect spot for our wedding. Once we found the venue that met our criteria for a small lakefront wedding we decided to get married during our favorite season -FALL! The fall feeling of an outdoor October ceremony was mirrored inside the park district venue for the reception with purple mums, white pumpkins, and a pumpkin birchwood cake.
DIY Details
In the months leading up to our wedding, our home looked like a craft store had exploded! Kelly made everything: the escort cards were bookmarks with quotes from our favorite books (she spray-painted the books that held them). The centerpieces were carved pumpkins on top of gold-painted books, and the gold-painted tree stumps that marked the start of the wedding aisle were from Kelly's childhood home in South Carolina. Kelly also designed the programs for the ceremony which included illustrations of the bridal party, done by our friend Sarah. Stefani and Kelly made homemade pumpkin butter which guests took home as gifts, and Stefani and her dad built the chuppah. Also, Stefani's childhood friend, Molly, made their wedding cake, and it was delicious! Almost every detail was created by us or a friend, and it made our wedding even more special.
Contact Wedding Pros
Planning a Chicagoland wedding and on the hunt for fabulous wedding pros? Send a message to our Go Team!
Wedding Planning Advice
Everyone says "enjoy it," but really, really enjoy it every minute of it! We read early on in the planning process to each choose one aspect of the wedding that really mattered to us, focus on that, and let the little things slide. This advice was super helpful and allowed Kelly to put a lot of passion into the aesthetic, while Stefani focused on the ceremony and rituals. We were engaged for about a year and a half and really recommend taking your time when planning, especially if you're DIY-ing, it makes it a lot less stressful! Finally, find your talented friends and ask them to help! They'll feel so happy they got to help make your wedding special.