Summertime Chicago is gorgeous, yes. We all know it. But a magical time that often gets overlooked is the wintertime in Chicago. There are so many beautiful aspects of getting married in the winter and Wedicity, an amazing wedding planning company in the heart of Chicago, is giving you 9 reasons to indulge in that gorgeous winter wedding of your dreams!
1. Stunning Winter Landscapes: Chicago transforms into a winter wonderland, providing breathtaking views and stunning backdrops for your wedding photos and a unique City experience for your guests. From the frozen lakefront and ice formations on the Chicago River, winter is maybe one of the most underrated times of the year to get married in the Windy City!
2. Winter Festivals: Take advantage of the numerous winter festivals, light displays and events in Chicago, such as Christmas tree lighting ceremonies, ice sculptures, and holiday markets like the Christkindlmarket Chicago or the Lincoln Park Zoo Lights or the Magnificent Mile Lights Festival! Incorporate these events into your wedding weekend as part of your guests welcome experience or post-wedding day activity!
3. Cozy Ambiance & Intimate Atmosphere: Create a warm and cozy atmosphere with rich colors, cozy textiles, and candlelight, playing into the warmth of the holiday season will make your wedding feel special, romantic and a wintertime delight!! Lean into mood lighting beyond just candlelight to really create a cozy guest experience Get some inspiration here from the Bridal Guide!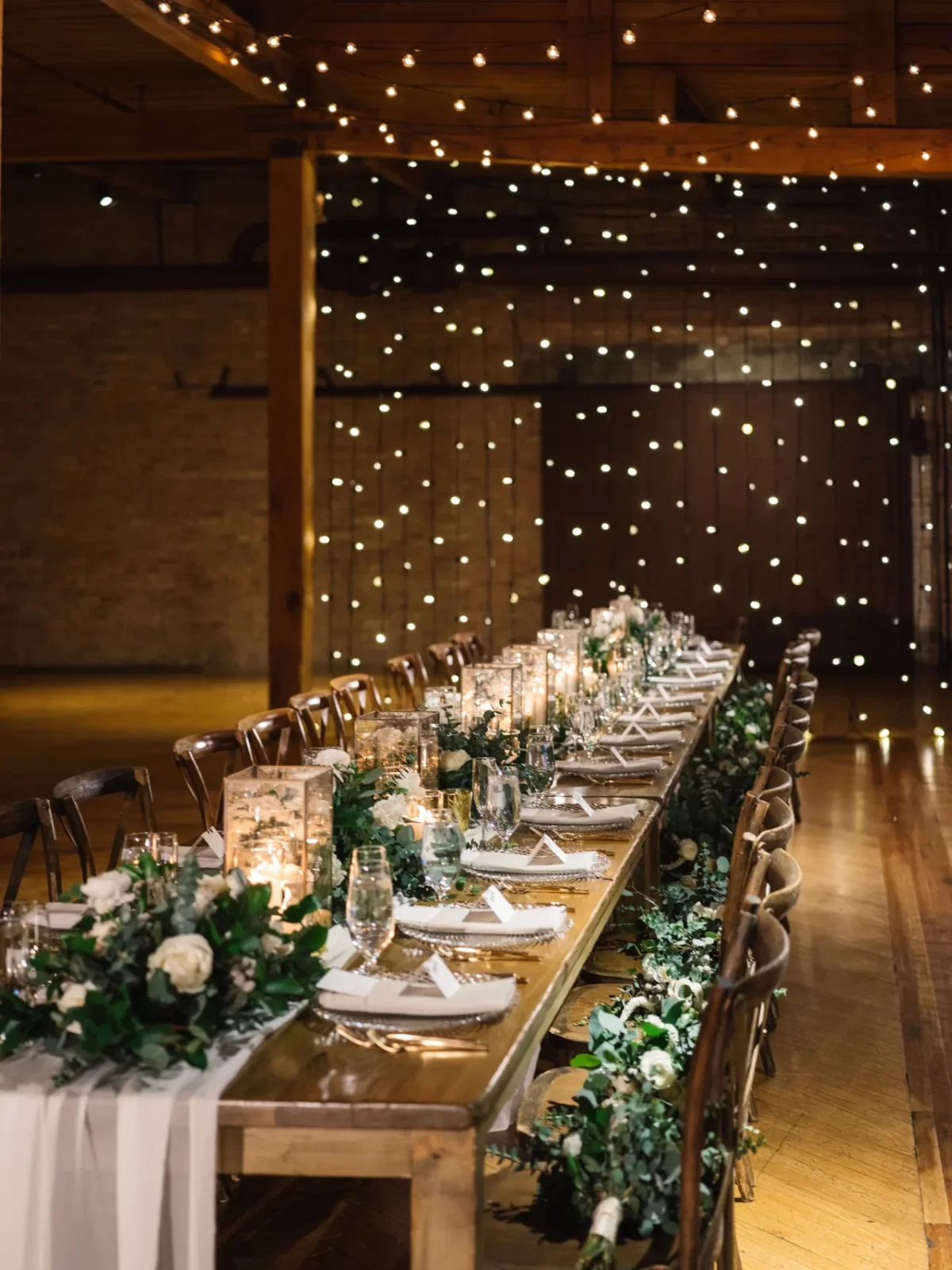 4. Winter Florals: Add a touch of seasonal beauty to your décor with winter blooms, such as poinsettias, holly, and evergreen boughs. Often times venues, hotels and other areas are decorated this time of year as well so you can lean in on the decor that is already provided by the venue! Your bouquet can become reminiscent of the time of year with emerald greens, snowy whites and burgundy colors that will really pop!
5. Snowy Photos: Capture the magic of winter in your wedding photos with snowflakes, snow-covered landscapes, the beautifully lit tree at the Wrigley Building or the famous "Lions of Michigan Avenue" statues at the Art Institute!
6. Save Money: Winter weddings tend to be less expensive than summer & fall weddings, making it an ideal time for budget-conscious couples. This allows you to get a whole lot more bang for your buck from venue pricing to vendor availability and potential for discounted hotel room rates for your guests also!
7. Exclusive Venue Availability: Winter is considered off-season for weddings in the Chicago area, making it easier to secure your preferred venue and vendors. You'll have greater access to a variety of unique venues that would historically be booked well in advance!
8. Unique Food and Drink Options: Offer seasonal menu items such as hearty stews or soups in lieu of salad and warm winter cocktails as a specialty drink. Really play into the season with seasonal flavors from nutmeg or cranberry to rosemary or peppermint! Fun interactive desserts like a hot cocoa bar will really make the night memorable!
9. Timeless Elegance: Winter weddings have a timeless elegance that is perfect for a classic and sophisticated celebration. Leaning into this allows for you to play around with fashion from faux furs to capelets!
Pro Tips
Warm Accommodations: Keep your guests warm and comfortable with heated venues by providing extra heaters in any outdoor spaces or cozy blankets near fireplaces, and warm beverages flowing all night long.
Intimate Atmosphere: Opt for an intimate atmosphere with a smaller guest list, perfect for a romantic winter wedding! If you have a big guest list despite the time of year, seat guests at king style family tables to make the space feel more intimate and curate conversation.
Winter Planning: Celebrating during the snowy days of winter definitely has its advantages but be sure to create some contingency plans in case of severe weather. Best plan of action is to make an extended weekend out of it and have guests come in a few days early to enjoy pre-wedding activities and avoid the stresses of inclement weather.
Schedule around Daylight. The sun sets much earlier in the wintertime so be sure to look at the sunset time and plan your day (specifically wedding photos) around this to ensure you don't miss peak sunlight time with your photographer!
Written by Tionna Van Gundy, Owner of Wedicity – Wedding Day Detailing
Photography Credit (in order as shown)